Discover more from On Track Foundation
Bridging the gap between the safari industry and conservation organisations by promoting citizen science to enhance leopard research in South Africa.
Monthly newsletter - August 2023
Over 500 leopard photos submitted this month - a record!
Dear supporters and wildlife enthusiasts,
I hope this newsletter finds you in good health and high spirits. I have some updates to share with you about our ongoing wildlife conservation efforts.
Crowdfunding milestone
I'm thrilled to announce that our crowdfunding campaign has reached an incredible 50% of our target (£10,000)! This is an amazing achievement, and I want to extend my heartfelt thanks to everyone who has contributed so far. A special shout-out to Painted Dog TV for their generous donation of R10,000, collected from their dedicated members. We will be extending the campaign until the end of the month to give more people the opportunity to support our vital work.
We urge you to continue donating, as every contribution brings us one step closer to our goals. With your support, we can:
Purchase camera traps to set up in community areas and farmlands, helping us understand leopards' movements outside the reserves.

Establish a side project to study human-leopard conflict perception, in collaboration with a university.

Develop effective solutions to combat the rising issue of snares in South Africa. Your donations make a real difference.
Art for conservation
I have received a generous donation in the form of an incredible painting by local artist Vanessa Lomas. The beautiful artwork, featuring Ntsakelo, a young male leopard frequently seen in one of the wildlife estates, is now available for sale. Ntsakelo has emerged as a symbol of coexistence between humans and leopards, emphasizing the importance of fostering harmony with wildlife, particularly in regions and towns adjacent to nature reserves.We encourage you to consider purchasing this meaningful piece
Media highlights
Exciting news on the media front! I had the privilege of being invited to Painted Dog TV's new TV show, "That's Wild." In a captivating talk with Gareth Poole, a passionate guide and leopard enthusiast, we discussed our project and leopards in general. Tune in to learn more about our mission and the fascinating world of leopards.
Additionally, our podcast series with Ultimate Safari - Conservation Conversation continues to thrive. In the latest episode, we had the pleasure of hosting Owen Gröbler from Searching for Spots, who has dedicated years to studying leopards in the Hoedspruit Wildlife Estate. Discover what it means to be a dedicated citizen scientist and gain insight into the world of leopard conservation.
Snare incident
Recently, a male leopard was caught in a snare within one of the reserves. Fortunately, the leopard managed to free himself, but he sustained a wound. Thanks to the support of dedicated individuals, the local wildlife vet was able to provide essential treatment. It's interesting to note that this leopard was not on our database, but it seems he's now settling in the area, raising hopes for more sightings. Snares remain a growing issue in South Africa, and your contributions to our crowdfunding campaign help make a difference.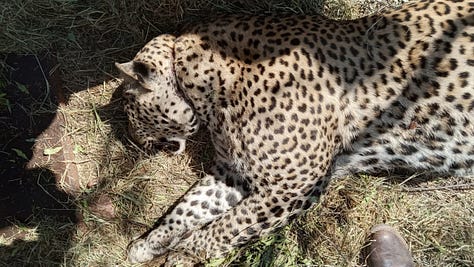 Data contribution and partnerships
I'm delighted to share that all the data collected since the inception of our project have been submitted to the South Africa National Biodiversity Institute (SANBI). This data will become part of the global national database, contributing to our understanding of leopard management in the country. Additionally, a student from a South African university has been selected to analyze this data, working closely with the team from Transfrontier Africa. We are actively pursuing partnerships with universities and organizations to enhance our reporting and analysis capabilities.
Data collection progress
This month, we received data submissions from 18 different reserves, which is a remarkable increase of 4 compared to the previous month. The number of images uploaded to the African Carnivore Wildbook AI platform has also significantly risen.
Below is a short video showcasing all the sightings submitted in 2023.
With this wealth of data, we've started creating preliminary maps that showcase individual leopard movements. The map below highlights leopards with a minimum of 3 different sightings. It's a glimpse of what is possible if we continue to expand our efforts in collecting and sharing data.
Thank you for your unwavering support in our mission to conserve and protect these magnificent creatures. Together, we can make a lasting impact on leopard conservation in South Africa.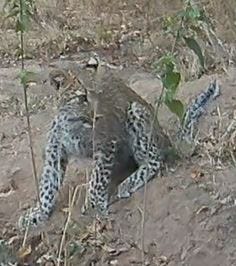 On Track Foundation is a reader-supported publication. To receive new posts and support my work, consider becoming a free or paid subscriber.