Discover more from On Track Foundation
Bridging the gap between the safari industry and conservation organisations by promoting citizen science to enhance leopard research in South Africa.
Monthly newsletter - September 2023
Embark on an exciting journey: conservation safaris on the horizon!
Dear Supporters of Leopard Conservation,
I'm thrilled to share some exciting developments in our ongoing mission to protect leopards and their habitats.
Conservation Research Safaris
I have very exciting news to announce! We are on the brink of launching Conservation Research Safaris that will provide a unique and immersive experience for guests. These safaris will not only offer the chance to explore the breathtaking African wilderness and its wildlife but also allow participants to actively engage in critical conservation activities.
Guests will have the incredible opportunity to witness and participate in various conservation activities, ranging from understanding the life of an anti-poaching unit to witnessing K9 (dog) training for anti-poaching operations, and even joining in the removal of deadly snares that threaten both leopards and other wildlife. Additionally, guests might learn about rhino monitoring, relocation process and much more. Through these activities, we aim to provide the guests with profound insights into the world of conservation.
The proceeds from these safaris will directly benefit Ingwe Leopard Research and our valued partners who provide these unique activities. Stay tuned for more updates as we prepare for the launch of these extraordinary safaris, set to happen before the end of the year!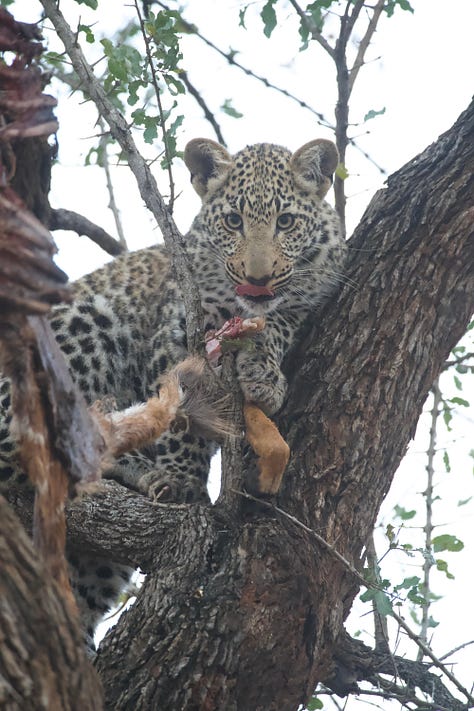 Arid Wines: Sip for a Spotted Cause
We're dedicated to exploring new avenues for fundraising so I want to spot the light on our partnership with Arid Wines. Through this unique collaboration, we are hoping to distribute Arid Wines in participating reserves, lodges, and wildlife estates that are part of our project. Arid Wines is not only a delightful choice for wine enthusiasts but also a meaningful way to support conservation efforts. They generously contribute 3% of their sales to Ingwe. By choosing Arid Wines, you not only support a small-scale wine maker nestled in the Western Cape of South Africa but also contribute to our vital work. With Christmas approaching, consider making Arid Wines a perfect gift that truly supports conservation!
Project Expansion: Welcoming New Partners
We continue to grow! This month, we welcomed four new entities to our project, bringing the total number of reserves enrolled to 25! Thornybush Game Reserve, Makumu Lodge in the Klaserie Game Reserve, Makalali Game Reserve through Siyafunda Conservation, and the Air Force Base in Hoedspruit have all joined our mission. Together, they contribute over 40,000 hectares to our project. The entire study area now spans an impressive 220,000 hectares, all thanks to the collaborative efforts and commitment of reserves, managers, guides, and citizen scientists who share information for the benefit of leopard conservation. This expansion is a significant step toward protecting these magnificent creatures and preserving their habitats.
You will find below information regarding the data submitted since the beginning of the year. The graph below represents the number of leopard images from all the sightings occurring each month. The sighting can be from camera traps or from direct observations.
*The September data from the Kruger National Park will be added next month only.
The map below displays all the sightings that occured in 2023 and that were shared by the reserves.
Fundraising Update
I want to extend my heartfelt gratitude to all our supporters. After deducting fees from the platform and factoring in the generous donation from Painted Dog TV, as well as direct donations made on the On Track Foundation website, we have successfully raised £5,930. Your unwavering support enables us to continue developing and expanding our vital conservation project.
Thank you for your continued support, dedication, and passion for leopard conservation. Together, we are making a profound impact on the future of leopards in South Africa.
On Track Foundation is a reader-supported publication. To receive new posts and support our work, consider becoming a free or paid subscriber.